When building a stockade fence there are really two main questions to get out of the way.  Wood or steel posts, and what type of wood for the fence?  There are really 3 main varieties of wood used in privacy fence.  Within those varieties there are different grades but we will discuss the pros and cons of  Treated Pine, Spruce, and Cedar fence pickets.
Treated pickets are most always made from pine typically come in a 4″ picket or a 6″ picket and are available by the picket or the panel.  They are also available with a 2×3 back rail or a 2×4 back rail.  The main selling point is that they are pressure treated to withstand moisture and rot.  However the pressure treated panels are still susceptible to rot and also have a tendency to warp, twist, and split.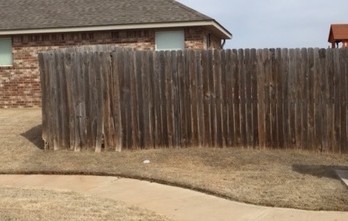 Because of this Fence OKC has chosen not to use this type of wood for our fences.
So how about Spruce?  Spruce is an economical choice and is typically cheaper than treated pine.  Most spruce fences that we install have a 2×3 back rail.  This is a common choice among builders and is a common "first fence" for a home.  Spruce is a great wood to use if you plan on staining the fence and keeping it sealed.  If this is the route you choose be sure to stain/seal your fence at least every two years.  You also might think about upgrading to a 2×4 rail to help prevent sag between posts.  Without stain this fence should last 5-7 years in Oklahoma.
Cedar fence is our most popular choice.  Not only is Western Red Cedar a beautiful accent to your yard it is the best for a few reasons.  Every Cedar fence that Fence OKC builds is built using 2×4 cedar back rails, 5/8″ or 7/8″ thick cedar pickets and each picket is screwed (not nailed) to the rail with coated decking screws.  Cedar is far less susceptible to rot and ages much better than Spruce or Pine.  Cedar fences should last 20+ years in Oklahoma.  A quality sealer will extend the life and look of your cedar fence.  We recommend a quality clear sealer for your cedar fence.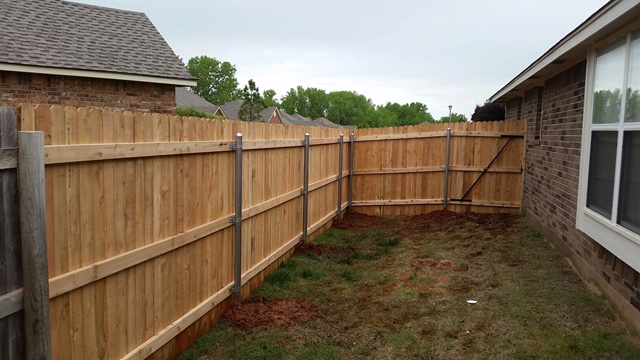 A fence should always be looked at as an investment in your home.  A quality stockade fence not only provides privacy and security, it also adds value to your home and property.  A cedar fence is a value whether you plan on staying at your current home for years to come or  as a selling point for the potential buyer if you plan on selling.  So for Fence OKC we think for value, sturdiness, and longevity, a cedar fence wins every time.
If you still have questions on what type of fence you should install. We would love to talk to you about your project. Please feel free to reach out to us online. Or better yet give us a call at 405-778-1545 for a free consultation and estimate.