At Fence OKC we install a lot of  fence.  There are many things that make a fence.  However, the most important thing is the post and how it is set.  A properly set post will last decades and will truly provide value to your home or property.
There are many contractors who set wooden posts of varying grades when they install stockade fences.  These fence posts are typically found in "builder grade fences".  Isn't it comforting knowing that the builder of the home wanted to use the absolute cheapest materials on your fence?  Some fence installers use landscape timbers, others use 4×4 treated posts.  While the lesser of the two "evils" is the 4×4 post these treated posts have a tendency to warp and twist.  When that happens your fence suffers.
At Fence OKC we use only galvanized steel posts for our stockade fences.  We use .095″ thick 8′  posts for a 6′ fence which in Oklahoma should really be the minimum thickness. Each post then has a specially designed bracket that is attached to the post which then attaches to the cedar 2×4 rails.  Make sure you ask the question and verify the thickness of the posts when your contractor installs them.
There are several different types of steel posts.  For a heavier duty application such as a gate post or an 8′ fence we typically use a schedule 40 grade galvanized post.
We also use a Postmaster style post which has a higher wind load rating than a standard .095″ post. Read more about those here.  These are great for all types of stockade fences but are especially great for a shared fence with a neighbor as they con be fully concealed from view.   These posts are exclusively produced by Master Halco.
The footing is also very important for the structural integrity of the fence.  Make sure your contractor uses appropriate psi concrete (3000 psi or greater).   This may sound like common sense but there are contractors who may try to simply pound a post in the ground without using concrete at all.  Concrete should be either pre-mixed or mixed in hole.  Never allow a contractor to leave dry concrete in the post hole.
Unless appropriate concrete is used a fence should not typically be set on posts the same day they are set.
At Fence OKC we mix our concrete in hole.  We also typically use a hardener to help the concrete set up faster.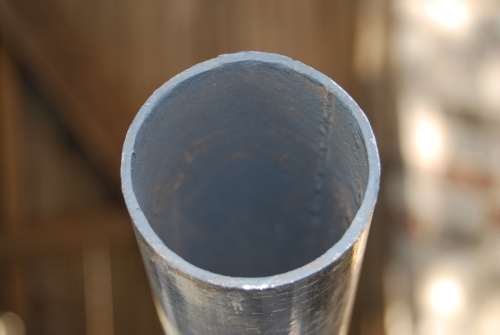 A post hole should be no less than 6″ and typically 8″in diameter and approximately 24″ in depth is typical for 6′ stockade fence installation.  In some instances if we are unable to dig a full 24″ we will increase the width of the hole to maintain strength.